Jan 24 | Evan | No Comments |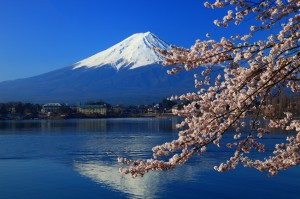 Cherry blossom season is probably my favorite time of year to experience Japan but it's not always exactly the dates for year to year.  The first cherry blossom forecast for 2015 of Japan's cherry blossom season has been released by weathermap.jp! As with all forecasts, they are best guesses and will certainly be updated from now until the start of the 2015 cherry blossom season. Cherry blossoms, or sakura in Japanese, are particular fragile and even if the opening date is correct, weather, hard rain or strong winds can reduce the peak period or full bloom time that is best to view the cherry blossoms.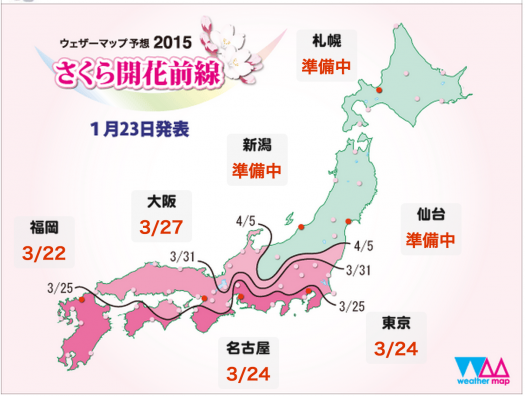 It is still early, but right now, the general forecast is slightly ahead of the average first bloom and full bloom dates for the 2015 cherry blossom season. For more information on the average blooming dates of cherry blossom trees in Japan and best places to view cherry blossoms, take a look at japan-guide.com or JNTO.
Here are the current estimates for the opening blooms of cherry blossom trees in Japan for 2015, with full bloom expected to be around a week or so after:
Fukuoka | March 22
Matsuyama | March 24
Hiroshima | March 26
Miyajima | March 26
Kyoto | March 27
Osaka | March 27
Nara | March 29
Nagoya | March 24
Tokyo | March 24
Yokohama | March 24
Kanazawa | April 3
Mar 02 | Evan | No Comments |
Every February brings (at least) 2 great things related to traveling to Japan:  The Sapporo Snow Festival in Hokkaido and the first sakura (or cherry blossom) forecast for Japan.  If you plan on visiting Japan during cherry blossom season, head over to the Japanese National Tourism Organization (JNTO) site for some great information.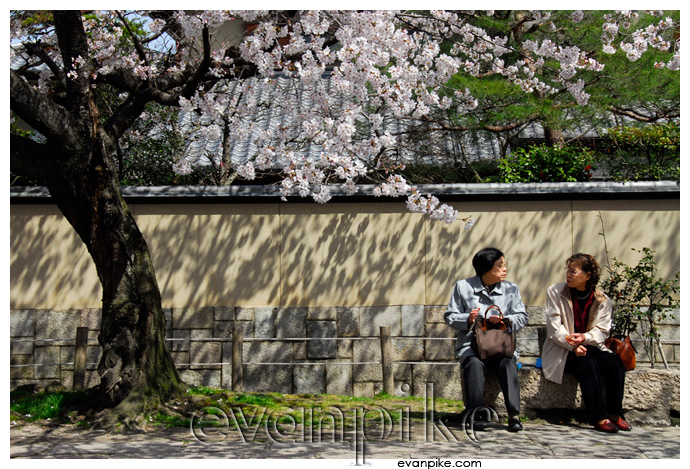 Like the with the weather, predicting when the cherry blossom trees will be in full bloom is not 100% accurate, but usually it is within a few days.  Once the cherry blossoms are out, typically they can about a week or so, depending on the type of cherry blossom tree, size, location and weather during bloom.  After the sakura start to bloom, one strong windy and rainy day can shorten the length the cherry trees are in "full bloom."  In any case, check out this graphic from the JNTO website or if you can read Japanse, you can go to tenki.jp directly where the JNTO gets their forecast.
JNTO's Cherry Blossom Forecast:

Have vacation in March?  Let's go to Japan!
There is still some space for a private custom tour of Japan with Japan Photo Guide!  Wanna take a last minute trip or hire me to come along on your already planned trip?  Contact me today!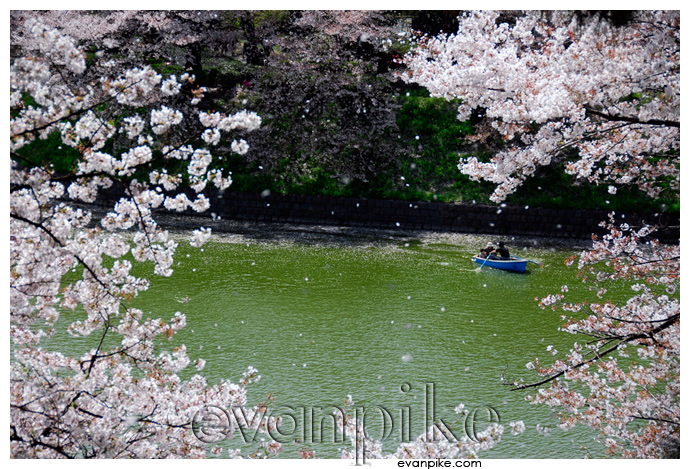 Can't make it to Japan to see the cherry blossoms?  For information about the cherry blossom forecast in Washington DC, here is a great place to get some information about the cherry blossom trees there.
Mar 31 | Evan | No Comments |
I'm not a good enough writing to express what I'm feeling with the news of the earthquake just off the coast of Northern Japan today. Having lived in Sendai for just over 3 years, I've been hoping and praying all my friends over there are safe, but it's pretty scary to see places you've been to many times destroyed by the Tohoku earthquake and tsunami. My wife and I are so relieved to hear that her family in Tokyo is okay, but there are still many out there, we and others are worried about. Here are two links with resources for those in Japan, or like me, searching for those in Japan:
http://gakuranman.com/great-tohoku-earthquake/
http://www.survivingnjapan.com/2011/03/earthquake-in-japan-links-resources.html
For US Citizens in Japan, here is an email, phone number and twitter that might be helpful:
JapanEmergencyusc@state.gov
12025014444
@travelgov