Apr 15 | Evan | No Comments |
The most famous group of monkeys in Japan can easily be said to the group of monkeys at the hot spring at Jigokudani Monkey Park in Nagano. If you don't know which group of monkeys I am talking about, these are the monkeys you might have seen in the photographs of monkeys relaxing at the hot spring in Nagano, Japan. Does it ring a bell? If not, take a look at the Jigokudani Monkey Park official website here to see what I'm talking about.
They are the only monkeys in the world, which are known to bathe in the hot spring to keep themselves warm during cold winter. The park opened in 1964 and there are currently around 160 monkeys in the area, which come to bathe only during winter. Yes, this scene of monkeys bathing in the hot spring is a rare view only seen at this park. So, if you are not sure winter is a time to travel to Japan, this could be a good enough reason for you to join Japan Photo Guide's photo tour of Japan to witness and capture the rare scene of monkeys relaxing in a hot spring.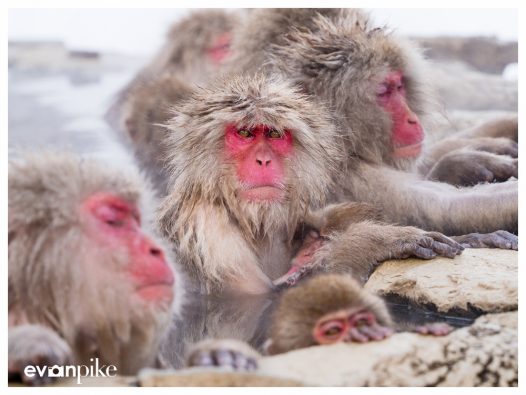 What is "Snow Monkey?"
So let's learn more about the monkeys at Jigokudani Monkey Park. As already stated, the park opened in 1964 and there are 160 or so monkeys living in the area to use the hot spring. However, they do not all come down to the hot spring at once, but they come down in a group of 40 to 50 monkeys. The reason the monkeys come down to bathe is just like us humans, they want to warm their cold bodies during winter.
The term "snow monkey" is a term created by international media. Even before international media came to this spot, it was a popular destination for Japanese, but ever since the international media gave a spotlight to these one and only monkeys, the number of foreigners visiting Jigokudani Monkey Park has increased tremendously. For example, back in 2012, the total of 130,000 tourists visited the park while 30,000 of them were international visitors.
Nihonzaru = Japanese Monkey
The kind of monkeys you see at Jigokudani Monkey Park is Japanese monkey, Nihonzaru. They live over a broad area of Japan except for Okinawa and Hokkaido. If you want to see them, you simply need to head to the mountains. The matter of fact, when I was a child, I saw Nihonzaru in my town as my town is surrounded by mountains in Kanagawa Prefecture just south of Tokyo. They came down to human habitations and there was even a week-long town alert to warn us to be careful not to engage with monkeys when going home and after school. During that week, a group of us saw monkeys at the park, which had a back to the mountain. Even today, I hear that my town and surrounding towns have monkey sightings regularly.
Japanese monkeys are really everywhere in Japan except for Okinawa and Hokkaido. You get to see them at the zoo as well as randomly in mountainous areas. However, they are wild so you cannot easily spot them by simply heading to the mountains. A park like Jigokudani Monkey Park was created so that anybody can come and observe the monkey for pleasure, but also for research purposes. The truth is, Japanese monkeys have very high social ability, thus the zoo does not showcase everything for us to fully understand them.
Let's learn more about Jigokudani Monkey Park!
Jigokudani Monkey Park is located in Yamanouchi town in Nagano Prefecture, which is at the altitude of 850 meters. During winter, the temperature drops as low as -10 degree Celsius/14 degree Fahrenheit and snow accumulates up to 1 meter/3.3 feet. Yes, the winter in this area is very severe and tough for monkeys as well as humans.
The park is a cage free park, where Japanese monkeys can come and go as they wish. It was created in 1964 and 1st received international recognition back in 1970 when it was covered by US magazine, LIFE. However, the biggest media exposure was in 1998 when the Nagano Olympics took place. This is when the park received a lot of visitors from the Olympic players, Olympic spectators as well as media.
The reason the monkeys return to the park is because they are fed in the park. However, the park is just a part of their entire life, thus they go in and out of the park freely. As stated earlier, the Jigokudani Monkey Park area is very cold, thus the monkeys come down to the hot spring to warm their cold bodies. This scene is unique to winter as the monkeys are not so keen to hop in the hot spring during other seasons. So if you want to capture monkeys in a hot spring, you want to visit the park during the cold winter.
Dos and Don'ts when visiting the park!
They are wild so please remember the points below when you visit the park or whenever you encounter wild monkeys in Japan. Below points are listed on the official website in Japanese, but they are not translated to English so hope you spend some time before you make your way to the Jigokudani Monkey Park!
Don't feed them
Don't touch/frighten them
Don't look straight into their eyes at close distance
Don't get too close to them
Can't bring in dogs and cats
You can do photography & videography even with flash
Can't use a selfie stick
At the park, even photographing using flash is allowed, but when photographing using a phone, please be careful not to get too close. Additionally, a selfie stick is not allowed in the park as it can potentially frighten monkeys as they could look like a weapon to them. People often tend to lose the idea of distance when using a selfie, thus it's not safe to use around the monkeys.
When visiting the park, you need to always remember that they are wild. Little monkeys are curious, thus they may get close to you, but if that happens, please remove yourself away from them so that you can avoid any harm. They can call adults to help if anything happens. Also, looking straight into their eyes means an indication of hostility as well as opening your mouth big. Don't get too close, always keep distance from them.
Lastly, since you cannot get too close to the monkeys, bringing a binocular is a good idea suggested by the park to observe them from a distance.
Finally…
After seeing photos and videos of monkeys bathing, you might be thinking "I want to go to a hot spring too!" Well,l don't worry! Even though the park is away from any human habitations, in the same town, there is Shiga Kogen Snow Ski Resort where you can enjoy skiing/snowboarding while warming up your cold body at the hot springs. Going to see the monkeys in the wild is exciting, but if you get to enjoy other aspects of Japan when visiting Nagano would be a bonus, right? By the way, if you want to learn more about Japanese monkeys before you head to Japan with Japan Photo Guide's Japan photo tour, follow the park official Instagram here and/or watch the live camera of the park so that you can dream of the day to visit and capture the snow monkeys!
Apr 07 | Evan | No Comments |
What is the difference between the two?
Maiko and geisha are one of the most iconic symbols of Japan. They are mysterious, beautiful, elegant, and perfect photographic subjects for your photo tour of Japan. With 300 years or so of history, we can learn so much about Japan through them. In this article, let's learn about maiko and geisha so that when you are on your next photo tour of Japan, you have more knowledge of Japan, and furthermore, you are more prepared to photograph them and/or even become one for a day!
Let's learn about maiko!
In short, a maiko is the girl who is training to be a geisha, an apprentice of geisha. Most of the girls start training to be a maiko after graduating from Jr. High School for 5 years or so. Back in the day, the training started as early as 10, but in today's modern world, the girls who dream to be a geisha start their training as a maiko after graduating from Jr. High School, which is age 15 and then by age 20 or so, they turn into a geisha.
So what do they do during those 5 years of training? Well, the first year is all training, they don't even go anywhere near the customers. The girls learn traditional dance, dressing kimono, tea ceremony, flower arrangement, etiquette, and how to treat customers. After 1 year of training, then girls debut as a maiko to be in front of a customer for the first time. In the 2nd year onwards, the girls continue training as well as work as a maiko in front of customers until they make a decision to continue or discontinue working in the industry as a geisha or end the career around the age 20.
Some fun facts about maiko is that maiko hair is not a wig. It's all her natural hair and once the hair is made, a maiko wears the hair without washing it for a week! Additionally, a maiko wears a seasonal "kanzashi," hairpin. If you are trying to differentiate between a maiko and geisha, check out their hairpin to see what kind of hairpins they are wearing. Furthermore, one clear difference between a maiko and a geisha is what they are wearing on their feet. Those ones with very thick platow heels are maiko. Geisha wear geta or zouri, which are much more flat compared to maiko's footwear.
Can you guess if she is a maiko or geisha?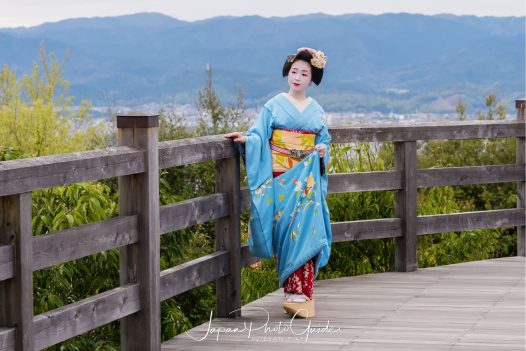 Let's learn about geisha!
In short, a geisha is the woman who graduates from being a maiko. After 5 years or so of training being a maiko, then you become a geisha. Yes, everyone starts from maiko and then eventually turns into geisha. As well as a word, geisha, you also hear "geiko" and "geiki" which all mean the same. The difference is the area, which part of Japan you are in. Just to make things easy, let's stick to geisha here. 
Geisha are the traditionally trained hospitality professionals. Not everyone can be one and those who are named as geisha have extensive training as described earlier in the maiko section. Besides its mysterious beauty and elegance, they are the living traditions who are passing down Japanese traditions.They also act as ambassadors to the world when international events take place. There is no age limit to being a geisha, thus some people continue to be a geisha even in their 80s! However, in general, once a woman marries, she graduates from being a geisha.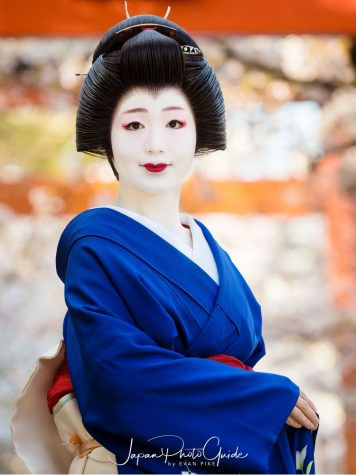 If you want to meet a geisha and a maiko, you might be lucky enough to run into them randomly on the streets of Kyoto, but if you really want to spend time with them, then you need to go to ozashiki where geisha and maiko entertain guests. Back in the day, only a handful people with fame, money, connection, and power could spend time with maiko and geisha, but time has passed that there are some services offered today that with an interpreter, you can also enjoy ozashiki with geisha and maiko. I don't know the cost involved, but if you are looking for one and only experience, perhaps request this in your private photo tour of Japan?
Maiko for a day – Let's try to be a maiko in Kyoto!
One of the most popular activities for females visiting Kyoto is to become a maiko or a geisha. There are many companies, which provide full make up, wig, and kimoto service to magically turn you into a maiko or a geisha for a day. You get to do a photoshoot with the full look and/or get out of the streets of Kyoto. No, you don't need to be Japanese to be one. Anybody can be one if you use any of these services below. Don't worry, all these companies below have English websites so you will be able to get a feel for what to expect. Additionally, if males also want to try wearing a kimono, some companies also offer services for males too.
Gion AYA Maiko & Geisha Makeover
For those of you who want to know more about the actual experience, below is the YouTube video from Gion AYA Maiko & Geisha Makeover. This is from when American reality big family star, "19 Kids and Counting," the Duggars girls as well as the mother and the grandmother are all trying this Maiko experience.
So hopefully you learned something new about maiko and geisha in this article. Maybe we can travel to Japan later in 2021 or the following year on Japan Photo Tour so that you can capture beautiful maiko and geisha then. Of course, if you get inspired and interested in being one for a day, perhaps it's not a bad idea to turn into one on your tour too. Just a note to remember is that there has been a significant number of complaints from the maiko and geisha of the Kyoto community in the recent years that some travelers have been too aggressive when it comes to approaching maiko and geisha. Besides the obvious facts, it's not appropriate to touch their hair, kimono, and/or body, if you meet them on the streets of Kyoto or anywhere else, please be respectful and mindful. If you are photographing them, please always ask first so that it's a pleasant experience for both sides.
Apr 01 | Evan | No Comments |
How to say "This" and "That" in Japanese – "kore, sore, are"
Do you know how to ask "What is this?" and "What is that?" in Japanese? How about "How much is this?" and "How much is that?" Well, these are simple questions, but very useful when you are visiting Japan. Of course, when you are a part of Japan Photo Guide's photo tour of Japan, these will be useful to know too, right? 
In this article, we are going to touch base on the basics of "this" and "that" in Japanese. For example, when you are touring Japan and want to ask "how much something is" and "what that is" we can use what we learn here today to navigate yourself better in Japan. Needless to say, when you are a part of Japan Photo Guide's photography tour of Japan, he will be there to assist you. However, it's always good to know a few useful Japanese phrases and words so that you can enjoy the tour even more and have freedom to communicate with Japanese people on your own.
Ok, let's get started!!
What is this?
Let's first learn a few key words. Below are the keywords you want to first remember. (Like the other Japanese lesson article, I provide you with 3 writing styles here so that you can work at your own level of Japanese.)
What = nani/なに/何 & nan/なん/何
This = kore/これ
In Japanese, if you want to ask "What is this?" you will be using below:
Kore ha nan desu ka (*In Japanese, you write "ha," but pronunciate "wa.")
これ は なん です か
これ は 何 です か
What in Japanese is "nani," but in this question, it is conjugated to "nan." We are also asking "What is this?" and this = これ. Don't worry too much about other grammar points, but just remember how to ask "What is this?" here for now. It's not too hard, right? So let's move onto the next!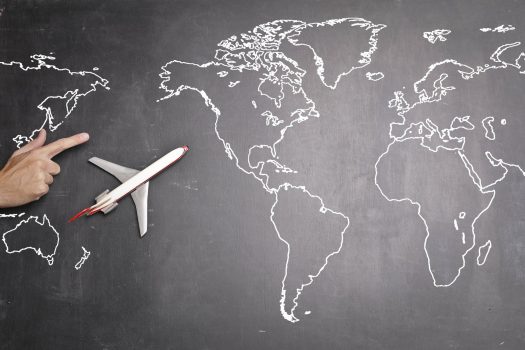 What is that? – There are two kinds of "that" in Japanese!
Ok, so here is the little tricky point you need to remember. In Japanese, there are two kinds of that. Yes, sounds strange and/or interesting, right? Don't worry! Let's break it down.
That = sore/それ
= Pointing out item(s) that is far from the speaker, but close to the listener
That = are/あれ
= Pointing out the item(s) that is far from both the speaker and the listener
As I summaries above, two kinds of "that" in Japanese have clear differences between when to use depending on where the item is placed. It all depends on the place where the item is located in relation to the speaker and the listener.
For example, you are on a photo tour of Japan and need to get a new camera battery at a store in Japan and the battery you want is behind the counter by the retail staff away from you, you use "sore." However, the camera battery you want is behind the counter, but up high in the shelves away from both of you, you use "are." Did you get a picture? Well, until you get a hold of sore and are, it can be a little confusing, but just keep practicing and you will eventually get it!
Other usage of "kore", "sore", and "are."
As well as the question "What is this/that?," we can also use kore, sore, and are in other simple questions. How about when you want to ask at a store you want to buy something? Let's learn some quick Japanese sentences!
Kore kudasai/これください
= Can I have this please?
Sore kudasai/それください
= Can I have that please? (Close to the listener, away from the speaker/you)
Are = kudasai/あれください
= Can I have that please ? (Far from both the listener and the speaker)
Here "kudasai" is "please have …" (yes, a very important one to remember!) so simply by adding this or that in front of kudasai, it can be "Can I have this please?" or "Can I have that please?" It's easy, right? Of course, as we discussed above, you want to remember which "that" you have to use depending on the item you are talking about in relation to distance for each case.
Of course, this is the simplest way of asking this type of question so if you know Japanese, you may know alternative ways to ask, but even if it's simple, it's polite and to the point so these are very useful for you to remember!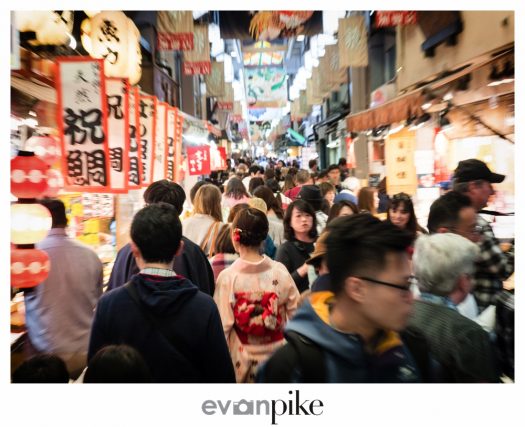 Summary
Today we covered a very important concept in Japanese. It can be confusing, but don't worry! Practice makes perfect, right? At least you are introduced to the idea of "kore," "sore," and "are" so now we can do a lot more! Maybe in the next article of learning Japanese, we can introduce how to make possessive in Japanese using "kore," "sore," and "are" to form even a little more complex Japanese sentences.
Hope you learned something new today! If you are eager to learn more Japanese and have a particular phrase or concept you like to learn, contact Japan Photo Guide so that we can prepare you for the dream photography tour of Japan for the next year!