Aug 10 | Evan | No Comments |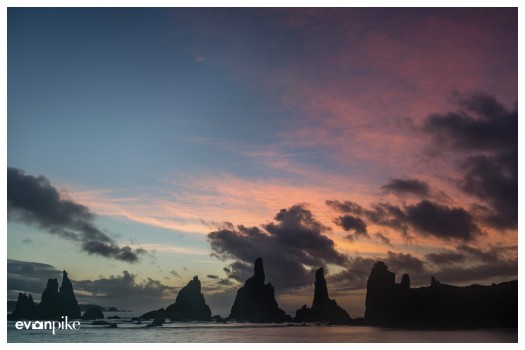 The typhoon was getting closer but I still had much more to see in Wakayama and needed more time to try out the graduated ND filters along with the 10 stop ND filter!  The next place was Kushimoto and Hashigui Iwa, a cool rock formation just off the coast of Kushimoto.   It's best to come here for sunrise, but it's also quite nice during the afternoon when the late sun hits the rocks.  Also, when the tide goes out, you can get quite close to the rocks.
When the water is calm you can get some great reflections from the rocks, but when it's not, like when I was visiting Kushimoto, the 10 stop nd filter is great to get really smooth water!  Hashigui Iwa is easy to access with parking lot just in front of the location.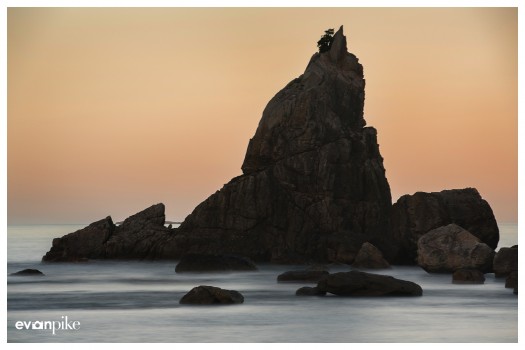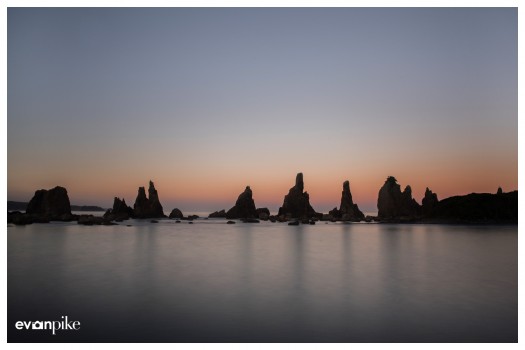 About 20-30 minute drive from Hashigui Iwa is another great location for rock formations, Umikongo.  I was there just hours before the typhoon would be coming and it made an normally windy place, too windy to hold my tripod and camera steady, but at least I could check out the area and take a few photos with my phone.  You can see that with good light and good weather, Umikongo would certainly be a good place to take photos while visiting Wakayama.
Aug 10 | Evan | No Comments |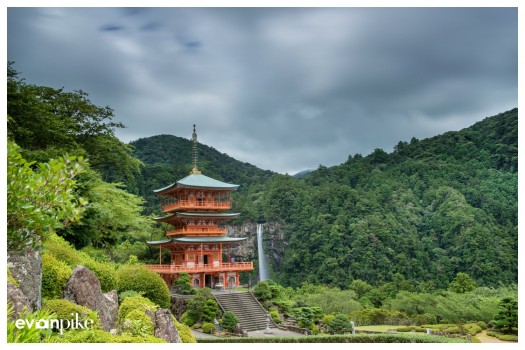 Instead of going directly from Shirahama to Kushimoto, we went inland a little to first check out one of the most famous shrines on the Kumano Kodo, Kumano Nachi Taisha.  It's not the easiest place to access without a car, but there are some bus you can take.  If you do drive, there are a lot of parking lots, mostly at the bottom of the stairs, but if you don't want to walk a lot of stairs, you can pay a small fee to park at the top.  Having walked the stairs, it's probably worth it to pay the fee!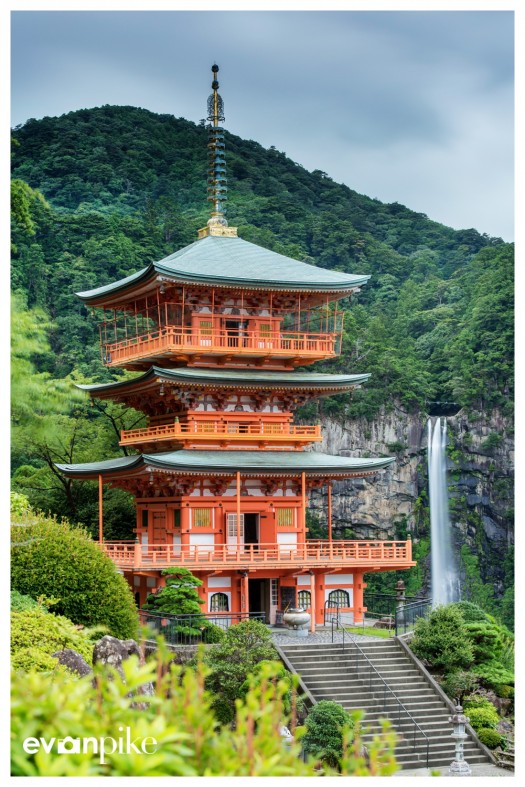 As I mentioned before, my trip was cut short by soon to come typhoon, so I only spent about 30 minutes here, most of which was to photograph the pagoda with Nachi Falls, though there is plenty explore around the shrine grounds along with other shrines not too far by.  Take a look at Japan-Guide for more information of the surrounding area.  One place I didn't see mentioned there though is an observatory, Nachisan Observatory (那智山見晴台) – though it literally translates to Nachisan Belvedere (did you know that a belvedere is a summerhouse or open-sided gallery, usually at rooftop level, commanding a fine view according to google?) that is just another 5 minute or so drive from Nachi Taisha.  Would have loved to come here for a sunrise!
Aug 08 | Evan | No Comments |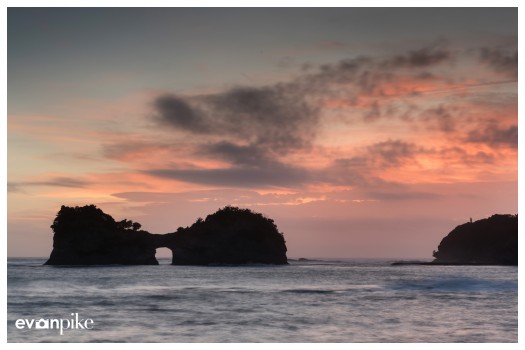 This summer in Japan I had planned to spend a week exploring Wakayama Prefecture. Wakayama Prefecture, Southeast of Kyoto and Osaka, is most famous for Koyasan and The Kumano Kodo, but this trip I wanted to explore the beautiful coastline in the Kii Peninsula. As it turned out, a typhoon also wanted to visit Wakayama Prefecture at the exact same time, so my trip got cut from 7 days to 4 days! In any case, I still managed to see much of what I wanted, though most places weren't at the time of day I would have liked to be there for. One place I could photograph as planned was Engetsu Islet in Shirahama. I ended up coming to Engetsu Islet for 2 sunsets and 1 sunrise, partly because I just liked the location but also because there are lot's of points around the coast to photograph Engetsu Islet from.
Imagine the coastline in the shape of a "U" but on the right side, instead of a straight line, it's an "S" and most of the U merged with and S coastline I walked trying to find location I liked to photograph from. This was also the first time I had attempted to use graduated neutral density filters and also a 10 stop ND filter (which is what makes the water look so creamy in some of these photos). I really enjoyed exploring the area and had fun learning about the new filters, though I still have a ways to go with them I suppose! Here is a comparison of with and without the 10 stop ND filter: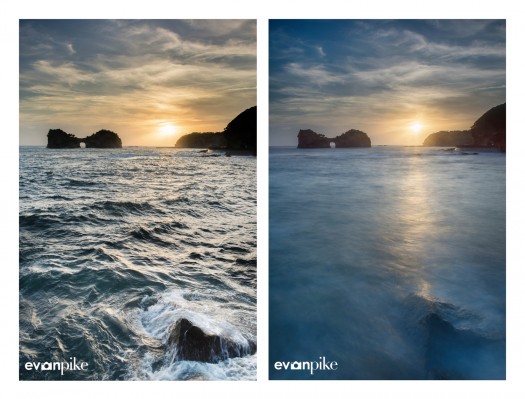 The last morning I was in Shirahama, I even got to see a rainbow along with Engetsu Islet which was kind of nice if not a little cliche of a photo though…
Next up on the trip would be Nachi Taisha of the Kumano Kodo!
Jun 17 | Evan | No Comments |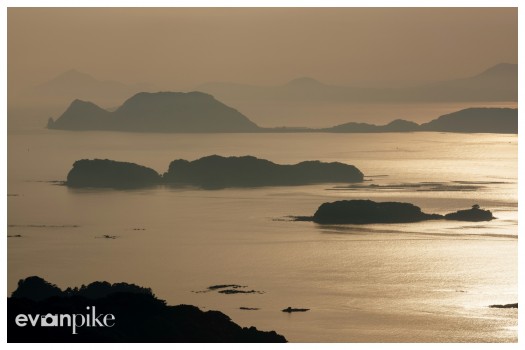 The last sunset of the 2015 Tanada Tour of Japan was spent at Ishidake Observatory to see views of the islands of Kujukushima.  It's a popular spot for sunsets and also a spot that was used for the opening scene of the film, "The Last Samurai."  The observatory does get crowded with photographers and the space isn't huge, so if you plan on going here, best to get there early.
We arrived at at Ishidake Observatory about 2 hours before sunset and there were already some photographers there waiting.  There was still space for our group touring Japan to take photos, but for some photographers that came too late had to squeeze or find another place that wasn't ideal.
I love the way the water looks after the boats pass through…
And finally a few panoramic photos of Kujukushima taken with my iPhone…
For the 2015 Rice Terrace Photo Tour of Japan, we also visited Doya Tanada, Hamanoura Tanada, Warabino Tanada and Mikaeri Falls, Nijinomatsubara, Jufukuji and  Yumiharidake Observatory for Kujukushima.  Interested in joining a future Tanada Tour of Japan?  Contact me today to start your experience for Japan!  Overall, this group tour of Japan focusing on the rice terraces of Kyushu was a success and besides making some great photos in Japan, we had a great time and ate (too much) delicious sushi and more!  Next up is the 2015 Fall Tour of Japan!
Jun 16 | Evan | No Comments |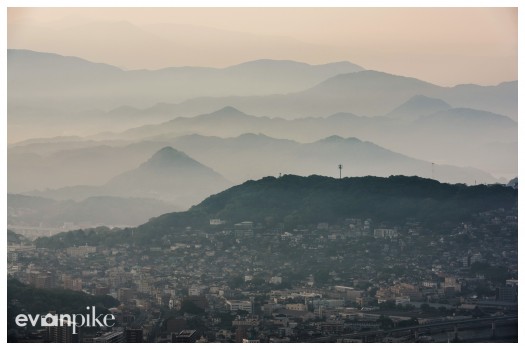 Our escorted tour of Japan continued from Karatsu in Saga Prefecture to Sasebo of Nagasaki Prefecture.  The hotel our group stayed at was next to a nice observatory with great views of Kujukushima.  Having such a nice place within a 5 minute walk from the hotel was very convenient for taking photos not only of the islands of Kujukushima but also the observatory offered nice views of Sasebo.  The views of Sasebo and the port were more interesting to me here, so that's why you don't see any views of Kujukushima in this post.  Don't worry though, in my next post of Ishidate Observatory there will be more photos of Kujukushima than you probably want to see!
This view is also very nice in the evening with the lights of the city, but the evening we were here, it was too cloudy to see all of the mountains in the background.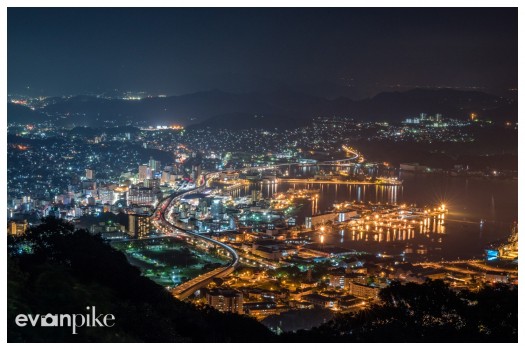 For the 2015 Rice Terrace Photo Tour of Japan, we also visited Doya Tanada, Hamanoura Tanada, Oura Tanada, Warabino Tanada and Mikaeri Falls, Jufukuji, Nijinomatsubara and Ishidake Observatory for Kujukushima.  Interested in joining a future Tanada Tour of Japan?  Contact me today to start your experience for Japan!