Jan 24 | Evan | No Comments |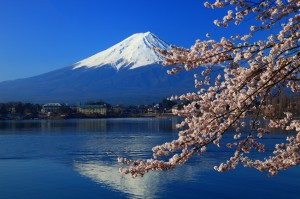 Cherry blossom season is probably my favorite time of year to experience Japan but it's not always exactly the dates for year to year.  The first cherry blossom forecast for 2015 of Japan's cherry blossom season has been released by weathermap.jp! As with all forecasts, they are best guesses and will certainly be updated from now until the start of the 2015 cherry blossom season. Cherry blossoms, or sakura in Japanese, are particular fragile and even if the opening date is correct, weather, hard rain or strong winds can reduce the peak period or full bloom time that is best to view the cherry blossoms.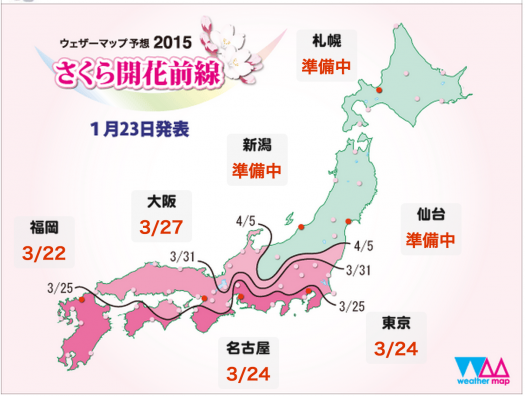 It is still early, but right now, the general forecast is slightly ahead of the average first bloom and full bloom dates for the 2015 cherry blossom season. For more information on the average blooming dates of cherry blossom trees in Japan and best places to view cherry blossoms, take a look at japan-guide.com or JNTO.
Here are the current estimates for the opening blooms of cherry blossom trees in Japan for 2015, with full bloom expected to be around a week or so after:
Fukuoka | March 22
Matsuyama | March 24
Hiroshima | March 26
Miyajima | March 26
Kyoto | March 27
Osaka | March 27
Nara | March 29
Nagoya | March 24
Tokyo | March 24
Yokohama | March 24
Kanazawa | April 3
Updated February 4th, 2015 as the Japan Weather Association has released their first cherry blossom forecast for 2015 Spring season.
Fukuoka | March 21
Matsuyama | March 23
Hiroshima | March 25
Miyajima | March 25
Kyoto | March 27
Osaka | March 27
Nara | March 28
Nagoya | March 25
Tokyo | March 26
Yokohama | March 27
Kanazawa | April 4
Sendai | April 12
Hakodate | May 2
Sapporo | May 5
Updated February 19th, 2015 as Sakura Map has updated their cherry blossom forecast for 2015 sakura season. Just a reminder that these dates are the estimated opening date for cherry blossoms and full bloom should be around a week or so after.
Fukuoka | March 22
Matsuyama | March 25
Hiroshima | March 27
Miyajima | March 27
Kyoto | March 28
Osaka | March 27
Nara | March 29
Nagoya | March 25
Tokyo | March 26
Yokohama | March 26
Kanazawa | April 4
Sendai | April 10
Hakodate | May 2 (Sakura Map didn't release yet, this is JMA's forecast)
Sapporo | May 5 (Sakura Map didn't release yet, this is JMA's forecast)
Aug 02 | Evan | No Comments |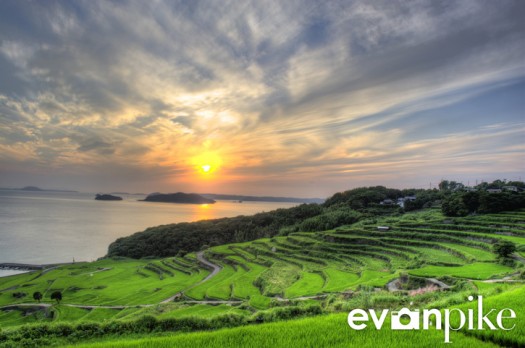 Tanada, or in English, rice terraces, are rice fields built into hillsides and mountains.  With the right timing and weather, they can provide excellent backgrounds for landscapes in Japan or other countries that have time.  Accessing the best rice terraces isn't always easy and finding information in English is rare, so I've become really interested in creating a tour to focus on some beautiful rice terraces in Kyushu.  I haven't worked out all the details yet, but this summer I visited a couple areas of Kyushu including Nagasaki, Sasebo and Karatsu, to scout out the area.  I knew my timing wouldn't be good for photos as I went during the rainy season for Kyushu and also the rice had already started to grow tall in most parts of the rice terraces.  Most of my favorite photos of rice terraces are when the season first starts and you can only see water in the rice fields.  This makes for some magnificent imagery, especially when you get a great sunset.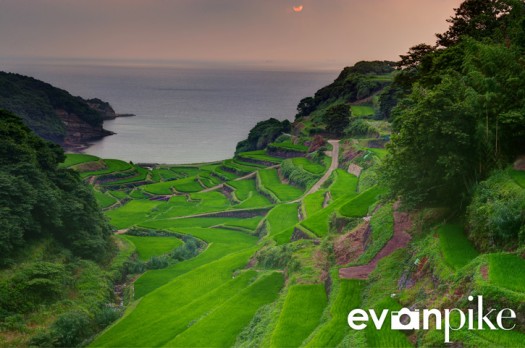 Even though this trip to Kyushu was mainly to scout the area and during the rainy season, I decided to practice some HDR (high dynamic range) photography.  The first time I really tried this was when I was in Japan during cherry blossom season on another tour of Japan.  You haven't seen any of those photos because they didn't come out very well!   This time, while I'm not thrilled with the results, they are at least good enough to share, considering it's only my second attempt!  Most of these are HDR but there are a few iPhone panoramic photos mixed in as well as a few HDR of other random places I found along the way in Kyushu.
Interested in coming along or in more information about the Japan Photo Tanada Tour?  Contact me and I can fill you in!
Aug 01 | Evan | No Comments |
It's no secret that I love Kamikochi and Kyoto, but Karatsu certainly deserves to be on my short list of favorite areas in Japan.  Located in Saga Prefecture in Kyushu, about an hour or so away from Hakata in Fukuoka, lies the peaceful and beautiful ocean side city of Karatsu.  There isn't much going on in terms of nightlife here, but lot's and lot's of beautiful scenery for great opportunities to take photos of Japan.  Compared to my days in Nagasaki and Sasebo, the weather was finally a little nicer and actually saw the sun… I wasn't sure it actually was available in Kyushu!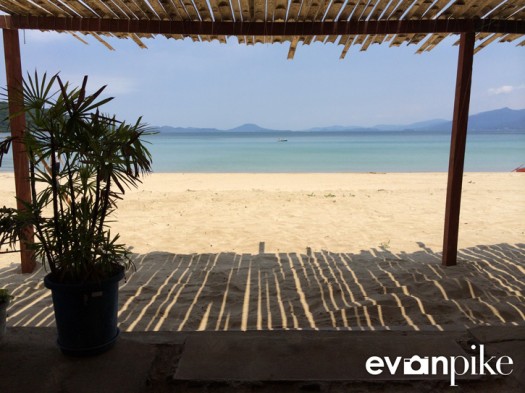 Like Nagasaki, Karatsu has both the ocean and mountains, which who doesn't love having both?  Also, it's a good base for visiting rice terraces, waterfalls (Mikaeri and Kannon Falls) and some nice beaches that if you didn't know any better, looks like you are in the tropics.  Niji no Matsubara is the most famous beach in the area, but along the coast, there are a few other smaller ones that look like something out of a movie.  Besides that, we went up to Nanatsugama Caves which was pleasant as well.  I didn't take any photos of it due to other places I wanted to visit, but Karatsu Castle is up on a hill and could certainly make for some interesting photos as well.  All in all, I'm a fan of Karatsu and certainly hope to go back for the upcoming rice terrace photography tour of Japan I'm planning.
Jul 29 | Evan | No Comments |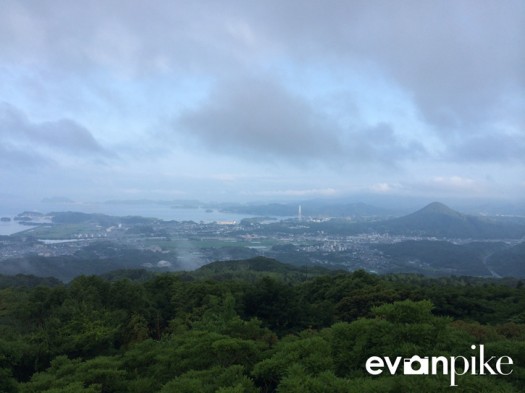 After visiting Nagasaki, the next place I wanted to scout for an upcoming rice terrace photo tour of Japan was Sasebo.  Like with Nagasaki, the weather in Sasebo was mostly rainy and didn't really allow me to take photos of areas I wanted when I wanted to, but I could at least check out the area and some observatories of Kujukushima.  The Kujuku Islands are part of Saikai National Park and can be really beautiful and provide great photographic opportunities in Japan.  Like with my time in Nagasaki though, for the most part, I was stuck with strong rain.  Even so, I could see the potential for future photography tours of Kyushu that Sasebo and Kujuku Islands could provide.  Due to the bad weather, most of these photos were taken with just my iPhone.
Jul 28 | Evan | No Comments |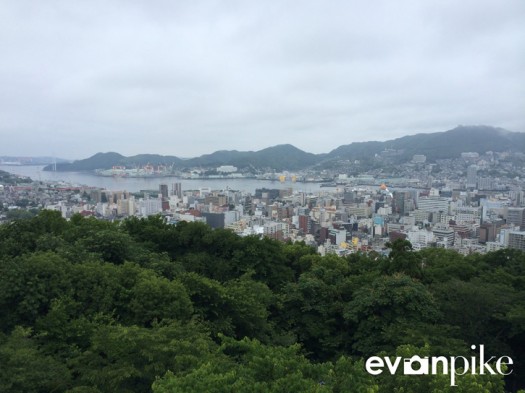 This summer I had the pleasure to travel to Japan and explore parts of Kyushu that I had previously not visited. I wanted to go to Kyushu to scout some locations for an upcoming photography tour of Japanese rice terraces or Tanada in Japanese. My timing wasn't the best to take pictures of tanada as it was rainy season and too late to see the rice terraces filled with water, but really this was just for scouting more than anything else. As I mentioned, when I was in Nagasaki, it was the rainy season and I'd say we had about 2 hours of non raining daytime in the 2 days I was there. This also prevented me from taking photos of the great night view in Nagasaki, but oh well!
As a city, I really enjoyed Nagasaki and really liked the way it's built into the hills and mountains in the area.  There are about 4 or 5 different places to get great views and photos of the city, if the weather is nice!  You will just have to google "Nagasaki Night View Photos" or squint/imagine while looking at my pictures as due to time constraints/weather, I was only there during the day.